---
Product Description
Housewares Solutions Popcorn Maker – Enjoy crispy popcorn that does not burn and leaves few to no kernels unpopped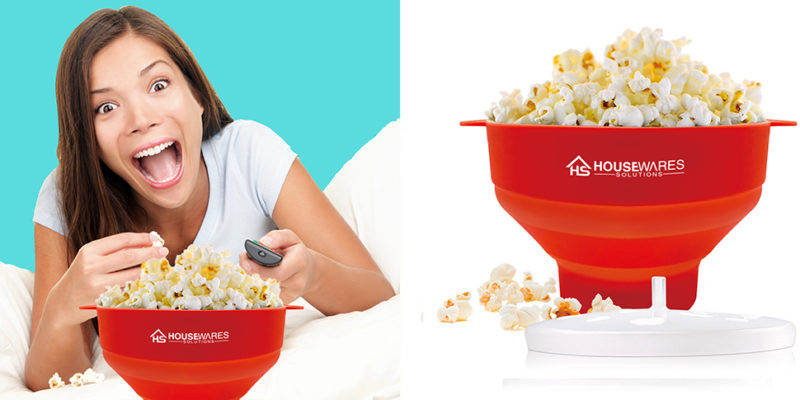 It makes popping your own popcorn as easy and simple as those microwave popcorn bags without the high cost and potential for an immediate coronary.
"Makes delicious popcorn quickly, easily, and economically"
It only takes a few minutes to produce very healthy, fluffy and mouth-watering popcorn. The Housewares Solutions Microwave Popcorn Popper is large enough to serve all members of your family. With a good performance microwave, you are good to prepare savory popcorn conveniently using our popcorn popper.
Love it because it is easy to use and it does seem to get almost every kernel in the bowl popped. It also offers all the convenience of microwaved popcorn without unsettling chemicals that are often used in most microwave popcorn bags. Now you can enjoy crispy popcorn that does not burn and leaves few to no kernels unpopped.
DURABLE AND SPACE SAVING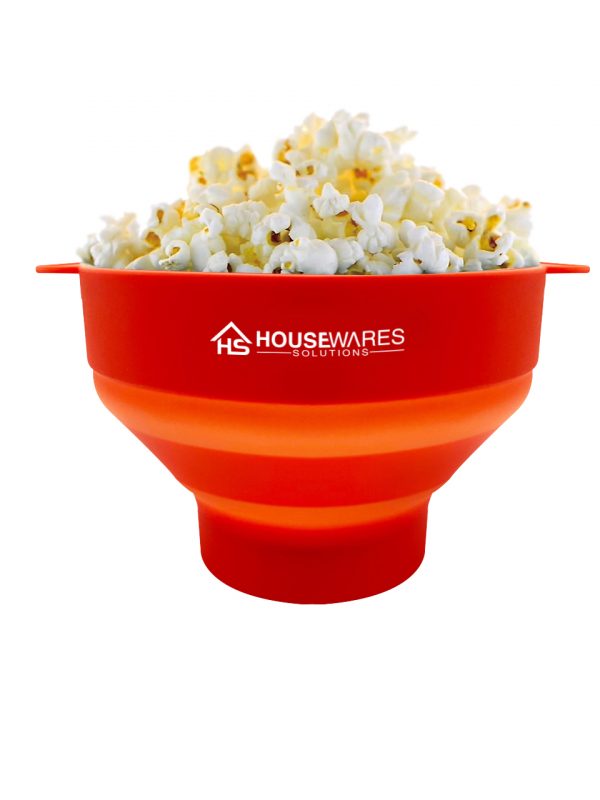 CONVENIENT TO USE AND SAVES TIME
Make light and fluffy popcorn with great taste at home!
You can set the microwave hence you don't have to sit there and wait
Get your popcorn ready within 2 – 3 minutes
VERSATILE WITH CONVENIENT HANDLES FOR SUPPORT
Control the taste of your popcorn by adding butter, salt, or seasoning as you desire.
Even heating in the Popper results in more popped kernels and less burnt pieces
DURABLE– Unlike hot air poppers and popcorn machines that constantly break down; Housewares Solutions Popper is flexible but strong because it is built from high quality materials that will last for for a long time.
COLLAPSIBLE FOR EASY STORAGE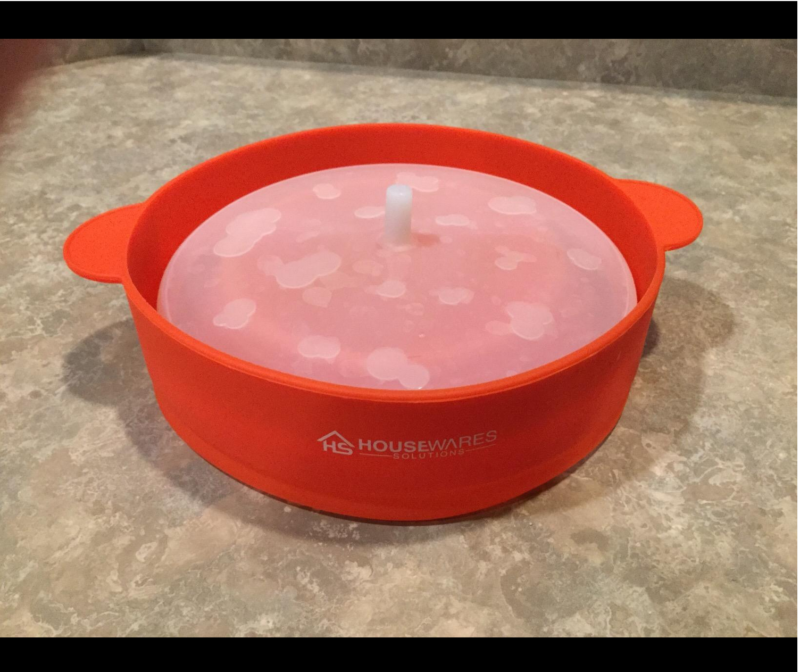 COLLAPSIBLE FOR EASY STORAGE
If you have a small space, you can still buy this popcorn maker. Despite measuring 8.3 by 8.1 by 2.7 inches, the bowl has a convenient collapsible design where you collapse it into a much smaller size, about 2 inches in height. This feature enables you to store it comfortably in your drawer or a cupboard for the easiest future access.
SAFE AND SECURE
Won't burn your fingers
The lid is secure to prevent steaming
Doesn't have heat conducting materials
Made from food-grade and dishwasher-safe silicone
SAVES MONEY
No chemicals, oil or artificial addictive needed
Saves energy as it makes up to 10 cups of popcorn with ¼ cup of kernels
MAKING MOVIE THEATRE POPCORN AT HOME HAS NEVER BEEN THIS EASY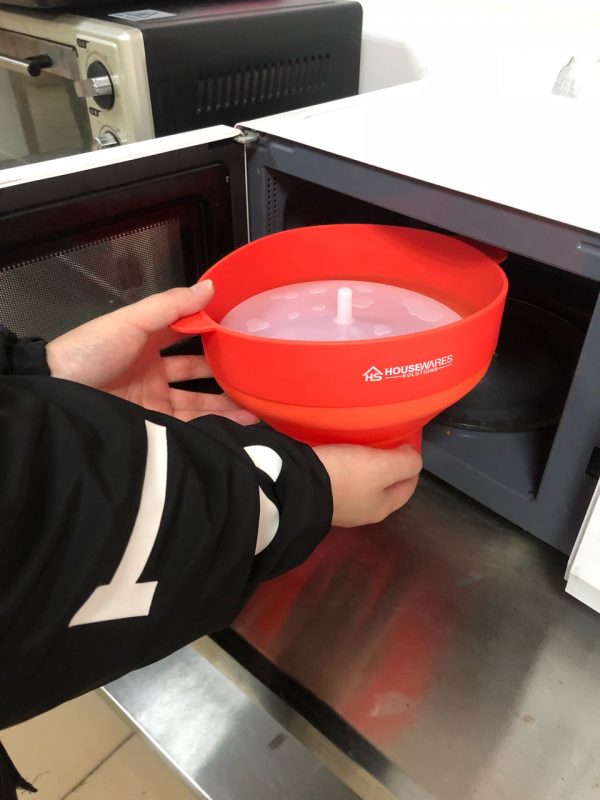 MADE OF PREMIUM MATERIAL FOR YOUR SAFETY: Made from food-grade and heat-resistant silicone. No fear of getting burned when removing from the microwave. Use our popper's convenient handles for easy and safe grasp.
EASY TO USE AND STORE
Dishwasher safe
Nonstick surfaces for easier cleaning
Easy storage – just collapse it and keep in a safe place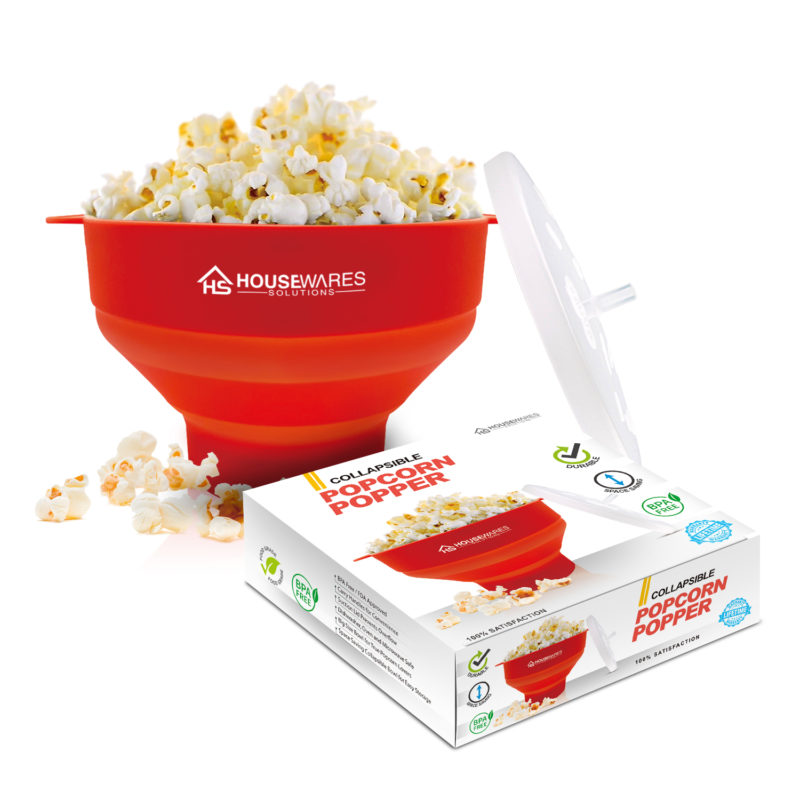 ECONOMICAL
ECONOMICAL AND HEALTHY ALTERNATIVE
Avoid the expensive and full of preservatives popcorn products on the market and make a healthier snack at home, Popped and ready without the need to add oil if you want to enjoy your popcorn in an even healthier way. Our Microwave Popcorn Popper is the tasty, economical, and healthy alternative to those greasy and expensive microwavable popcorn.
INSTANT HOMEMADE POPCORN
Enjoy making fresh, healthy, and fluffy popcorn in 2-3 min at home! You can now have your delicious popcorn from the convenience of your home or office using only your microwave. Hot and fresh and always in time, Have it ready in Just 2 – 3 minutes! Excellent for movie nights and parties!
DIRECTIONS:
Pour 1/4 cup popcorn kernels in the popcorn popper

Add 1 teaspoon oil or butter, if desired (for flavor only, not needed for popping)

Add 1/2 teaspoon salt, or to rase, close the lid, shake to coat the kernels if oil/butter/salt was added

Microwave for 2-3 min or until popping slows

Carefully open the lid to avoid hot steam

Add melted butter or seasoning if desired

Enjoy your homemade popcorn!